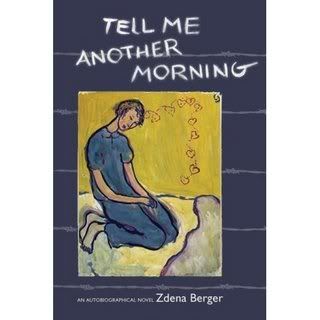 Several months ago I read
Tell Me Another Morning
, First Paris Press edition, 2007, by Zdena Berger. It was easily one of the best novels I had ever read.
I immediately added a
five-star review to Amazon.com
:
"Tell Me Another Morning" must be read as a companion piece to "Diary of Anne Frank." Anne's story ended when her family was discovered and dispersed to concentration camps. Tania (Zdena Berger) tells the story Anne couldn't, the struggle of a young girl and two friends to survive in the camps under the most impersonal and banal evil mankind is capable of inflicting. Our dramas are populated with monsters in human form expending great energy and taking huge enjoyment in dispensing evil. We are fascinated as they revel in horror. Zdena Berger shows us the other, more chilling face of evil. Tania faced one wholly different and vastly greater, the evil of indifference of one human to the humanity of another, multiplied thousands of times.




Towards the end it is shocking that the faceless guards pull a cruel joke by adding glass to the prisoners' bread, because until that point the guards seemed too indifferent to suffering to take any pleasure in causing or even noticing it. The three friends, Ilse, Eva, and Tania, grew during their trials, drawing strength and gaining character as their oppressors shrank into pitiful caricatures. Clearly none of them could have survived without the others, as each did small, selfless acts at times that helped her friends to find strength and courage to go on.




Once, after charming chocolate from male prisoners, Ilse gave it all to Eva and led Tania in pretending that they were sharing it so that Eva did not know she had the only piece.




"Tell Me Another Morning" is painstakingly crafted, and fills a high position on my personal list of best books. It is Zdena's only book, and her story is a classic for all times and should never again be allowed to go out of print.




I will never forget the friendship and courage of Tania, Eva, and Ilse, and I encourage all to join them on their immortal quest, powered by hope, to rekindle humanity from the ashes of indifference.

Alice and her book club met in our house today to discuss
Tell Me Another Morning
. Its author, Zdena Berger (Price), is a book club member and attended. Zdena was born in Czechoslovakia in 1925, and like almost all Czechoslovakian Jews, was forced into a concentration camp in 1941. Although Zdena's father, mother, and brother were killed in the camps, Zdena and two friends survived and were freed during the summer of 1945. Zdena wrote an autobiographical novel based on her experiences in 1958 after she moved to the United States. Her book, the only one she has written, was first published in 1961, and was recently republished by a publisher that rightly considers it an overlooked gem.
Earlier this year Zdena presented excerpts from her book at a well-attended reading at our Gualala independent book store, The Four-Eyed Frog.
Joel Crockett, who with his brother Jeremy owns and operates The Four-Eyed Frog, was to join me at the meeting as the only male guests of Alice's club. We were there to be decorative, seen but not heard. However, Joel had to cancel at the last minute to fill in for a sick employee, so I ended up the only thorn in a bed of roses.
Actually, I was a very useful irritant. Alice has been very weak from bronchitis since returning from our China trip, so I jumped in and made coffee, put out cups and silverware, greeted the arrivals, and etc. Buddy Doggy helped with the greetings. Buddy loves people, and people love Buddy.
I sat in the back to listen, and enjoyed the questions put to Zdena about writing her book, what she was thinking at various stages, and why she wrote a biographical novel instead of a memoir.
The answer to the last question comes first, because in truth, Zdena knew that would be the first question, no matter what the group, so she answered it unasked.
She wrote
Tell Me Another Morning
as a biographical novel to focus and dramatize her themes of friendship and survival. I totally agree with her assertion that she couldn't have done that with a straight autobiographical memoir, which would have just been added to the piles of Holocaust memoirs, each important and significant, but also lacking the lyricism and narrative intensity of Zdena's book, and its ability to communicate emotional truth.
I only interjected myself into the discussion one time. A woman asked Zdena, with the problems at Guantanamo and Abu Ghraib, didn't she see a link with her experiences in the concentration camps? Zdena politely answered she didn't, that combating terrorism was different than killing members of racial and religious groups.
Left unsaid was that the concentration camps practiced systematic murder of innocents, and that the camps for terrorists were to imprison fighters suspected of murdering or intending the murder of innocents (conversely, systematic murder seems to happen quite often in the prison camps run by Al-Qaeda and friends).
At this point I added my only comment to the discussion: "Even trying to link our imprisonment of terrorists with the concentration camps only serves to trivialize the Holocaust."
Later I wanted to ask Zdena a question, but I kept my mouth shut because I didn't want to intrude on the book club members. However, maybe there is something to mental telepathy, because soon after I formed my question in my mind, a woman sitting nearby asked it for me.
"Zdena, do survivors feel guilt, that everyone else was killed, and they survived? Do they ask themselves, 'Why me?'"
Zdena replied that it was a complex question to answer, but that survivors do have to deal with feelings of guilt.
The book club adjourned, and Buddy and I did a superb job of cleaning up and seeing the ladies off.
Book Review from Amazon.com:
From Publishers Weekly
First published in 1961, this haunting autobiographical novel retraces Berger's experiences in Terezin, Auschwitz and Bergen-Belsen. Teenage narrator Tania's shame at having to wear the yellow star turns into a sense of solidarity with her fellow Jews in Prague. In Terezin, she contemplates losing her virginity and watches helplessly as the Nazis clean up the camp to fool Red Cross inspectors. At Auschwitz, Tania sees the crematorium where her brother's body was burned, her friend Ilse trades sex for survival, and her aging father sells his sweater to make his daughter a present of sugar cubes. When Tania and her mother are selected for slave labor at Bergen-Belsen, which could prolong their lives, her mother chooses to stay and die with her husband and Tania bids them an agonizing farewell. Berger's heart-wrenching novel is an early eyewitness account of the holocaust, and this welcome reissue deserves a wide audience, particularly in high school and college curriculums.
Copyright © Reed Business Information, a division of Reed Elsevier Inc. All rights reserved. Book Description




"I love this book from beginning to end. It is a classic."-Ernest J. Gaines


This autobiographical novel depicts a teenage girl's experience in the Nazi concentration camps. As in The Diary of Anne Frank, Tania's youthful concerns are interwoven among accounts of extremity: her brother's murder, her mother's choice to stay with her father and die in the gas chamber rather than be transported to another camp, the saving friendships Tania develops, her relationships with young men and the guards. Throughout the novel we see claustrophobic uncertainty, grief, terror, exhaustion, and Tania's sustaining hope. Her return to Prague after the war is unforgettable and devastating, as she observes people wearing "normal" clothes, eating ice cream, and traveling on buses between work and home. There is no judgment, only the reality of two worlds existing simultaneously.


Zdena Berger was born in 1925 in Prague, where she lived until the Nazi occupation. She spent the war years as a prisoner of Terezin, Auschwitz, and Bergen-Belsen. After the liberation of Bergen-Belsen in 1945, Berger returned to Prague to complete her education, and then lived in Paris for nearly a decade. She immigrated to San Francisco in 1955 and now lives with her husband in the Bay Area. Tell Me Another Morning is her only book.
(Update: Today at the book club meeting, Zdena commented that, after liberation, her friends referred to her as "the last virgin in Europe."
Zdena and her husband George live on The Sea Ranch, south of Gualala, here on the beautiful and peaceful Northern California coast.
The following is an interview with Zdena published recently in
The Sea Ranch Soundings
.)
A Conversation with Zdena Price
, by Pam Boeke
Zdena, I remember when we first met here at Sea Ranch almost 20 years ago. It was at a book group meeting, and as I listened to you talk I thought what an unusually in­telligent, elegant woman you were. I wanted to get to know you—to be your friend. And that has happened.
You were open and generous in sharing your amazing past with me: how you lost your family in Auschwitz; how the British liber­ated you from Bergen Belsen in 1945, how you literally came to life in Paris in the early 1950s, had the good fortune to come to Cali­fornia in 1955 and meet George Price, your future husband. After many years in San Francisco, where George taught English literature at San Francisco State, and you worked at the Jung Institute, you two retired to The Sea Ranch.
This spring the book you wrote about your experiences in the camps,
Tell Me Another Morning
, first published in 1961, has been republished by Paris Press, a non­profit independent press which specializes in publishing neglected or misrepresented literature by ground-breaking women writers. The republication has received wide acclaim, and has had major reviews in both The San Diego Union-Tribune and The Los Ange­les Times.
I first read
Tell Me Another Morn­ing
in 1995 when you loaned it to me. I could not put it down. I re­member finishing it at 3:00 in the morning, thinking how privileged I was to know you and how the world was a better place for you having written your story. At that time I remember telling you this book should be republished. You, in your usual strong and humorous voice, said "Oh no, that won't hap­pen." Well, it has.
The German philosopher, Theodor Adorno, pronounced famously that "to write poetry after Auschwitz is barbaric." Nevertheless, from the Nuremberg trials to the pres­ent, there's been a keen demand for memoirs, fiction and movies based on survivors' stories. Those who survived are like the rest of us -- and yet not.
Zdena, tell me why you wrote this autobiographical novel?
"I grew up in Prague and in 1941 and at the age of 16, was deported with my family to the concentration camp I wrote my novel to make a truthful and powerful statement about the life in concentration camps from the perspective of a teenage girl -- which had not been done. I wanted to convey growing up in that atmosphere. "
Many powerful books, both fiction and nonfiction, have been written about the holocaust. What is unique about yours?
"The only way I could tell my story was to write a novel -- rather than memoir. For me fiction served as extension of memory. And I believe that truth is not only in day-to-day facts. There is truth in fiction, emotional truth. Writing the novel of­fered me an opportunity to explain the experience of girls growing up and coming of age in the camps. I wanted to convey growing up in that atmosphere. The relationship between three girls coming of age in the camps is very unusual and the core of the novel. I've always thought that none of us would have survived if we didn't have each other."
"By writing a novel I could shape certain experiences that did not -- at the time -- have a beginning, a mid­dle, and an end. Survival and friend­ship are the theme of the book. At the start of the novel, Tania, the teenage narrator and her family live in a state of denial even as coming events cast huge shadows into the present."
"In the middle section, after trans­port to a camp, Tania, having lost her family, creates a new family with two teenage girls. The inter­twining relationships -- the way they share resilience and ingenuity--become tools of survival."
"What I learned, writing Tell Me Another Morning, is that within the confines of our imprisonment - Ta­nia, Ilse and Eva make choices, and even the smallest ones -- sharing an apple rather that eating it alone, helped the girls, helped me survive. Without my friends, without each other, we would have perished."
"Writing the novel allowed me to focus on individual moments, in­dividual lives -- in the anonymity of collective misery. I could see beyond the narrow view of the nar­rator and transform the too painful facts into something larger, something that actually included and offered hope. I searched for truth through fiction and found meaning, which has helped me to live with my past, to live in the present."
Students may study this book, and readers in book discussion groups will talk about it. What two or three things would you hope stay with these readers after reading your book?
"I hope readers understand that it was possible to survive with dignity. And that the friendship between the girls was truly saving -- there was tenacity and there was tenderness between them, and they know they have to support each other without ever talking about it"
Who have been your favorite writers throughout your life?
"Flaubert, Balzac, Emily Dickinson, Hemingway, Anthony Powell, Iris Murdoch, Elizabeth Bowen, Henry James, Camus, Colette."
Elie Wiesel talks about bearing witness; he says, "Never forget." Simon Wiesenthal said, "For evil to flourish, it only requires good men to do nothing." Anne Frank said, "In spite of everything that has hap­pened, I still believe that people are really good at heart." What do you say?
"One has to believe that people are basically good because otherwise you would not be able to go on. There is a constant battle between the forces of good and evil. We have to hope that the good will prevail eventually."
Thank you, Zdena, for our conver­sation. For the record, Zdena is an avid swimmer, reader, cook, hiker and bon vivant.