UPDATE: Unfortunately, my implant holiday in Hungary did not work from a dental point of view. The upper left implant fell out a month after our return, and when I contacted The Implant Center, they mailed me a screw to be inserted while they repaired the implant and mailed it back to me. The screw was too big. By the time they mailed me the correct size, the hole in my gum had grown closed.
Then my dentist gave me more bad news. "The two upper right implants are mobile. They've failed, and it's just a matter of time before you lose them too."
I gingerly checked them, and they moved a lot side to side. So did the bottom right impant. "They should be very firm, not mobile like that," my dentist said.
The bottom line is that concerning my teeth, I'm worse off now than before I got the implants. It won't be long before all I have are the anchors embedded in my jaws, with no implants in them. Also, the anchors are not compatible with any fixes or repairs I could get in the United States, and there is no reason to believe I could get the dentists in Hungary to make them work any better than they do now.
Now with each bite I expect an implant to pop out.
Sometimes saving money can get mighty expensive.
"There's no place like home, there's no place like home. (Click, click)"
Alice and I love travel, and we love being home. The part of travel that makes it so easy to love our home in Gualala so much is the beginning and end of each trip. We usually stay a night or two, going and coming, with Alice's two lovely daughters and their delightful families in Walnut Creek.
However, we can't magically teleport from one place to the next, so we take our only practical option, and drive. So do millions of San Francisco Bay Area residents and commuters. We all congregate on the freeways, and see how successful we can be at not getting anyplace in a reasonable period of time.
When we got back from our Hungary trip on Friday, August 31, and checked into our hotel in South San Francisco, we heard an announcement that the Bay Bridge was closing for three or four days to complete repairs to a section. The next day our thirty minute trip to Walnut Creek took three hours.
The Hungary trip was a dental holiday. About a year ago I saw an item on the Internet about the high quality and low cost of Hungarian dentistry. The article caught my attention because I had just lost another two teeth as a late payment for the sins of growing up poor far from dental practitioners. By the time Point Arena got a dentist in the late 1950s, I was sixteen years old and needed many fillings and one molar extracted that was too decayed to save. As the years passed, I lost another seven teeth for a total of eight missing, five upper rear and three lower rear.
As luck, and dental neglect would have it, the teeth I lost did not lend themselves to logical or easy replacement via bridges or dentures. When that realization sunk in, then the thought of implants arose. I went to a specialist in Santa Rosa and found him eager to put in three implants for about $15,000, and then let a regular dentist add the crowns for another $2,800.
It would cost me $17,800 to get one implant upper right, one upper left, and one lower right. That would still leave a significant gap upper right. A fourth implant would close the gap, but add about $5,000 to the cost for a total of almost $23,000.
That's when the article about high quality, inexpensive Hungarian dentistry grabbed my attention.
Why is there high quality dentistry in Hungary? One reason is that good dentistry is a Hungarian tradition, and their dentists train longer, and more comprehensively, than in neighboring European countries like Austria. Then they charge about 20 to 25 percent of what Austrian, German, British, etc., dentists cost. As a result, their volume of business, and the competition for business, produces excellent, low cost dentistry.
Of course, it also helps that the European Union makes its dentists in developed countries charge very high prices, which drives most of their customers to Hungarian dentists. The European Union (EU) defends this practice by saying it protects dentists from ruinous competition.
Right. It protects EU dentists so well, that many Austrian and German dentists go to Hungary for their own dental treatment. And can barely attract enough customers to continue in dental practice in their homelands.
We arrived in Budapest on the evening of Thursday, August 23, after spending two nights in Brussels.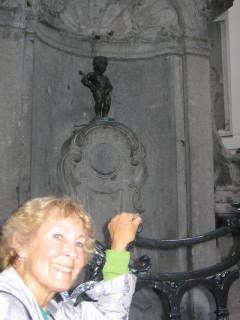 Alice viewing Brussel's famous Monsieur Pis, an activity apparently indulged by all Brussels visitors.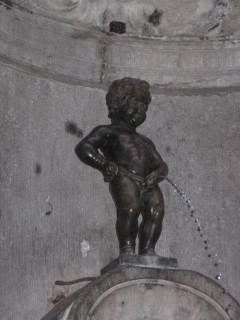 Monsieur Pis entertains us - apparently we're not a demanding audience


My suitcase, obviously not happy to be in the Capitol of the (socialist) European Union, skipped Brussels but rejoined me in Budapest. Our two-night stay in Brussels without my suitcase motivated me to rethink all the things I have been putting in my checked luggage because of restrictions on what can be in my carry-on bag. I had gotten into the habit of putting my entire shaving kit in my checked bag because of its liquids and razor. Henceforth I will take it with me filled with small bottles of essentials, and larger bottles for longer trips in my checked luggage. Plus I'll put a more generous allocation of underwear and socks in my carry on.
And my umbrella.
The Implant Center
(also referred to as Smile Savers of Hungary) had a car and driver, Thomazh, meet us at the Budapest airport and drove us to our excellent hotel, the
Hotel Gellert
in Buda on the shore of the Danube near the (now under repair - the photo shows it before repairs started) Freedom Bridge.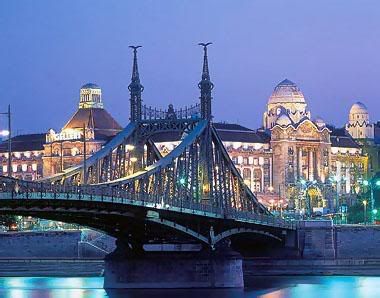 The Freedom Bridge over the Danube, with Hotel Gellert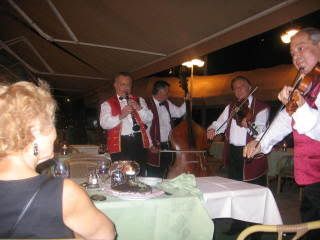 The Hungarian Gypsy band at Hotel Gellert serenaded Alice almost every night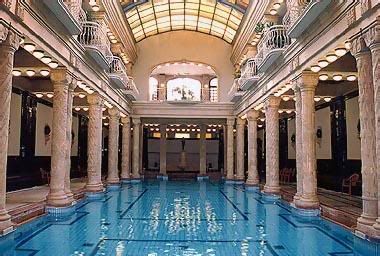 The Hotel Gellert spa had several large pools, including three natural thermal ones in addition to this covered swimming pool at room temperature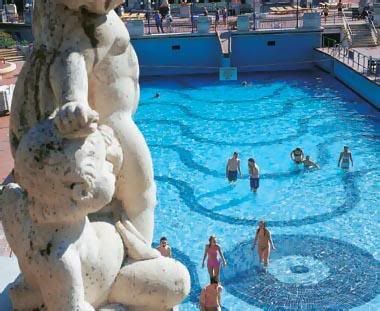 Hotel Gellert outdoor wave pool


The next morning, promptly at 8, Thomazh's older brother Lazlo picked me up at the hotel and drove me to the clinic. Both brothers spoke excellent English, since they both had attended high school in Bethesda, Maryland, while their father was working in the Hungarian Embassy in Washington, DC.
After a short wait, just long enough for me to admire the pretty ladies who manned (decorated?) the reception lounge, one of them took me to the X-ray room and made a panoramic scan of my teeth. Then back to the reception lounge to resume admiring, but not for long for soon it was time to begin serious dentistry.
Dr. Attila Kaman MD, DDS, greeted me and escorted me into a nice, modern clinic office and into a dentist chair. Dr Kaman is the head of the clinic, and would do my implant surgery. According to his web site, Dr. Kaman is "One of the most experienced specialists in implantology in Europe if not the world having placed 9,000 successful implants in the last 6 years." For the next two hours every thing he did convinced me that his reputation was well deserved.
My procedure was painless, and each step of the process flowed smoothly and precisely. Dr. Kaman began with the left upper rear implant. After numbing, he opened the gum and drilled the first hole using successively thicker drill bits. Then he inserted processed cow bone material into my sinus cavity (the "sinus lift") to build up the bone thickness, after which the implant anchor was screwed into my jaw, and the incision closed with stitches.
My X-ray showing how the implant (

CamLogs

) would be placed. The shaded areas above the upper implants show the

sinus lifts
Dr. Kaman repeated the procedure and implanted two anchors in my right upper rear jaw.
The last implant, in my right lower rear jaw, went very quickly because the bone there is thick and no procedure similar to a sinus lift to build up the bone was needed.
Total cost for the sinus lifts and four CamLog anchors, $6,304.
Remaining expenses when I go back next year to get four crowns fitted to complete the implants, $1,408, for a total cost of $7,712 and a savings of over $15,000. I could reduce the savings by about $3,000 to account for the cost of the trip, but we enjoyed the trip so much that it doesn't seem fair to add it to the cost of the dentistry.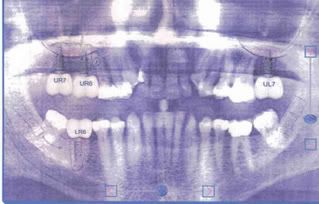 This X-ray shows how my teeth will look when the four caps are fitted next year
We love to travel, we loved the trip, it was time for a vacation, and we're already looking forward to returning next year.

Alice was impressed by the statues with buff buns



We had a long climb ahead of us, but I didn't know it yet, so I'm smiling (the cheek with the most swelling from the implants is in shadow, so I look almost normal)


And looking forward to spending almost a week in Turkey then.
I'm already reviving my almost forgotten Turkish phrases in my mind (phonetically):
Mir haba, akadash (Hello, friend).
Nasil sen? (How are you?)
Kash para? (How much does it cost?)
Chok para! (Too much!)
As long as I remember that no matter what price I'm given, it's too much, I should be OK.
Chok te she kara darum. (Thank you)