I remember vividly the day I became a man.
No, it wasn't when Marilynn and I took the walk to the top of the hill with the huge rocks north of her home on Gypsy Flat.
It was nine years before that, when I was a Fifth grader at Point Arena Elementary School and the school got a large number of tickets to the Shrine Circus in the COW Palace, San Francisco. Unfortunately, there weren't enough tickets for all the students to go, so they drew names.
I was drawn for a ticket, but my younger brother Ron wasn't. I wanted to go to the circus so badly, that it made me very sad to think of Ron not going too.
So then and there, with tears hidden or choked back, I gave my ticket to Bruno.
Bruno had recently arrived with his mother from Italy. He was a year older, but was in Ron's class while working his way up through the lower classes as he learned English. Bruno learned so well, that two years later when he graduated from elementary school, and four years after that when he graduated from Point Arena High, he was his class Valedictorian each time.
Giving my ticket to Bruno was one of the happiest sad events in my life. Years later, after I've seen my share of circuses and other enthralling entertainments, and forgotten a lot of what I've seen, I still remember my unselfish act when I was ten years old with pride.
It helped me realize that I was a thoughtful person, and even though Ron and I didn't go to the circus, we shared the good feeling of helping Bruno adjust to his new life in America by showing him that he would have friends here.
The circus packs up and moves on, but it leaves its memories.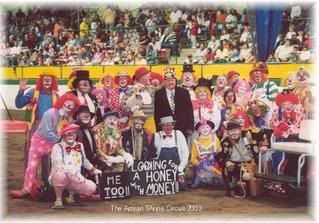 And sometimes it leaves a man where a boy had stood.
Please click on the labels below to see all my articles on these topics.