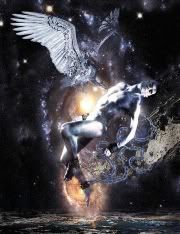 Prometheus In Chains
My post on
Real Clear Politics Reader Articles
, "
My Ancestors Owned Slaves
" was my most popular post so far by far. During the past three days I had over 400 visitors, and about 300 of them viewed "My Ancestors Owned Slaves," plus enough readers voted for it (and for "
Making The Army Of Reconquista
") to move both posts into the featured Reader Submissions category.
One added plus, a contributor to
Prometheus 6
, a Black-themed website, posted an excerpt and commented on my article. Click on "Prometheus 6" above to go to the post and comments concerning my article. Don't expect to find that anyone at Prometheus 6 agreed with anything I wrote. The following is my reply to the leading and following comments of the Prometheus 6-ers: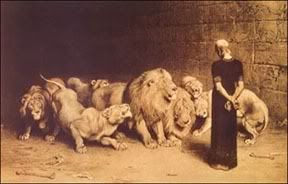 Feeding Time!
I want to get a few things straight in our discussion of my article, "My Ancestors Owned Slaves." The first is I didn't crash your "Prometheus 6" garden party; you invited me when you selected portions of my article to post on your website.
The second, I don't have to base my arguments against reparations on going back to and discussing all the historical wrongs of slavery and the post slavery period; you have to convince me that you're due reparations because you were victimized, not because your life has been tough. What you want may not be what you get, and so far I have not seen one coherent argument for reparations.
Third, I understand you have an incredible database to document the reasons for your failures; wallowing in victimhood seems to have become a national pastime, not just a Black obsession. I'm sure many of you have Ph. D.'s in Victimology.
Fourth, my disagreeing with you is not a sign of ignorance, lack of education, or intellectual capacity. If you take the time to go to my website and browse, you will find a lot of things you disagree with, but you will also find I have led a life of educational accomplishment, travel, and variety of experience. Born and raised poor, now living the American dream.
Finally, all the threats that I should "tread lightly, or get em-bare-assed," or being called "Major Asshole Mike," don't constitute proof that you are right. I know I'm in hostile territory. I know you have your own Gospel of "the way it is," and that nothing I do or say will shake your beliefs. In fact, it won't even make you think, but maybe it will make you wonder if someone can have a reasonable and logical basis for disagreeing with you.
Blacks are not the only ones who have it rough. Not in the least. Irish tell of "No dogs or Irish" signs. Japanese lost property and were placed in internment camps during World War II. The Asian refugees you called "self selected" left Cambodia and Vietnam in fear of their lives. Hispanics are fleeing Cuban government oppression, and poverty and corruption in Mexico, Guatemala, and many other American nations. In Haiti, Blacks experience anything and everything that could be bad, and worse. Since all of these problems are blamed on Uncle Sam, maybe they should be the ones claiming reparations.
I hope I didn't give them any ideas.
Just this past Friday a Rotary Club officer told of how she and her family suffered religious and ethnic persecution at the hands of both the Soviets and the Nazis, and spent over eight years in fear, desperation, and starvation before they were able to leave war-torn Europe for a new life in the United States. Arriving with no money, no education, not being able to speak, read, or converse in English, her father, brothers, and a sister dead, no family or friends to call on, she is now a successful business woman who has dedicated herself to improving the lives of unfortunate Africans – clean water, better nutrition, education – her gifts to the world, because of the opportunities she found in the United States.
Only Blacks who have experienced the inhumanity of Darfur, or Rwanda, can know how Jews in Europe were enslaved, starved, beaten and tortured, then killed with less humanity than we show a stray dog found in the street. Many of those who escaped annihilation arrived with ruined bodies and health, penniless, not understanding the language and culture, after living through a decade of Hell on Earth. I doubt any descendent of American slaves alive today has experienced the like.
As a final point, your analogy of citizenship and ownership of General Motors shares stinks. On this one, I'll have to pull rank. Not the rank of a retired Air Force Major, but that of a CPA, MBA. When you buy the shares of a publicly traded company, like General Motors, your liability is limited to the amount of your investment. If the company goes bankrupt, not impossible given the current state of General Motors, and the company goes into liquidation (not likely), the investors are not liable for liabilities remaining after assets are sold and proceeds of the sale applied to liabilities.
Your analogy stinks on many other grounds. When you make an investment in a publicly traded company, you are investing in earnings potential, given past performance and projections of future performance. All this is done in light of the risk you perceive, and your degree of risk aversion. If circumstances change and now don't suit your investment objectives, you sell General Motors and do something else with your money. Buying General Motors is a choice, being born in the United States isn't usually, unless you're a pregnant foreigner who gets across the border just in time to have your baby in the United States.
So far the analogy that underpins your whole argument doesn't hold water. Come back at me when you get the intellectual leaks patched.
(Dear Reader - please click the following link to see than I am
Having More Fun Than The Law Allows
)