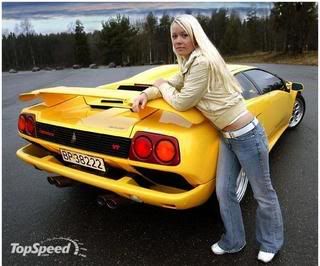 In the excitement, I forgot my camera, so imagine the sun is brighter, the Pacific is rolling against the shore beyond the trees, and there are many lasses and Lamborghinis assembled.

Recently a "lust" of Lamborghinis passed through our sleepy village of Anchor Bay, and stopped briefly. Thinking they might be here to check out the author of this blog which, among other things, celebrates life on the northern California coast, I stood in front of Banana Belt Properties to greet them as they crossed the street and walked briskly towards me.
"The restaurant told us 'customers only.' They told us there's a restroom here," the first fellow called out by way of anguished greeting. We are a one-public-toilet town, and I proudly pointed to it.
At a distance it looked like each Lamborghini was tastefully accessorized, and my snap judgment was quickly confirmed. A demure but hurried procession of lissome lovelies in tailored pants on elevated footwear, with thick heels four to six inches high, the type rarely seen on the coast, minced across Highway 1 towards me. I gallantly indicated to the distressed darlings that I knew what they needed, and they looked grateful for my assurance it was a flush model, not the ubiquitous coast one-holer.
"There's a fresh roll of paper, too," I cheerfully advised.