Buddy loves a run on the beach!
I had been stationed at RAF Bentwaters, Suffolk, UK, for about a year when I was selected to attend Squadron Officer School (SOS) at Maxwell AFB, Montgomery, Alabama in early 1971. I was pleased and excited to be selected. I was a 29-year old First Lieutenant, commissioned after six years enlisted service, with a wife and three sons. Being among the first group selected competitively from overseas to go to SOS was a good indicator that I had done well my first year as the Base Budget Officer. The other four selected from my base were all captains: a fighter pilot, two navigators, and a very senior captain Accounting and Finance Officer.
While at SOS I would be at away from Marilynn and the boys for 14 weeks, which was not unusual. In nine years of Air Force service, we already had four long separations lasting from four to six months. However, as the early January 1971 departure date got closer, I started to worry about how Marilynn and the boys would get by while I was gone. In November Scott, four years old, spent a week in the RAF Lakenheath hospital hooked to an IV because of dehydration from the flu.
I was the only one not sick during the Christmas season. Our 1970 Christmas dinner was potato soup. However, by New Years everyone seemed to be recovered to the point that Marilynn said she would be OK without me. Bruce was seven, and rode the bus to school at the base. Scott seemed to be getting steadily stronger. Three days before Jeffrey's second birthday I anxiously hugged and kissed everyone goodbye, and left on what I hoped would be another great adventure.
The first day at SOS I found that my sedentary life, which I attributed to spending over a year studying in the MBA program at Michigan State, working long hours in budget, and helping Marilynn with the boys, that very sedentary life was going to have to change. SOS had team sports – volleyball, soccer, and flickerball – but each day we were expected to run twelve minutes, and keep a record of how far we ran in each twelve-minute period.
Besides living a sedentary life, I was a cigarette smoker, at least a pack a day of unfiltered king-size cigarettes (Pall Mall usually) since I graduated from high school in 1960. However, after a couple of weeks of running almost every day I was able to cover approximately 1.5 miles in each twelve-minute run, not bad for a smoker. It just didn't look like I was going to improve much.
About this time we devoted one entire day to an exercise invasion of a made up island nation that reminded me a lot of Cuba. It was an exercise in logistics, and at one point I had to take a large stack of papers from our classroom down the hall to another classroom. I lit a cigarette and dangled it from my lips, then filled my arms with the papers and delivered them. When I walked into the other classroom, a senior officer instructor saw me with the dangling cigarette and remarked, "That's the grossest thing I've seen in a long time."
I pulled the cigarette from my mouth and smashed it out, and as I left the room I pulled my pack from my socks, crushed it, and threw it in the trash. I had smoked my last cigarette.
Each day after I quit smoking I could run a little further in the twelve minutes. Soon I was doing 1.75 miles, and before SOS ended I did a little over two miles per run a couple of times. Only two persons in my section accumulated more than 100 miles at SOS, and I was one of them.
When I returned to my base in England, I continued running four days a week. I didn't run on weekends, and I never ran on Fridays, because that was fish and chips day at the Officers' Club.
When I was reassigned to Scott AFB, Illinois, I ran five days a week because the Friday lunches were nothing special. By then my running routine was so ingrained that I didn't let the deep winter snows stop me. When the snow got too deep, I ran in the gymnasium just as hard and fast as I did outdoors. Unfortunately, running that fast on the hard gym floor put too much of a strain on my back, and I ruptured a disk in my lower back.
I didn't know I had a ruptured disk. The pain was in my left leg, not in my back. I went in to see the base medical center doctors several times, and I think they started to think the pain was in my mind. I think I was starting to agree with them, because it would stop hurting while I was running, then come back while I was sitting or lying down, taking it easy.
One morning a couple of young doctors were examining me, and an older doctor who seemed to be just taking a break overheard the discussion. He came over and asked me to keep my big toes rigid while he tried to bend them. After pulling on my big toes for just a moment, he announced I had a ruptured disk. He had been able to determine that my left big toe was much weaker than the right, signaling that the muscles in my left leg had already atrophied because the ruptured disk in my back was pressing on the nerve and radiating pain down my left leg.
I went into the hospital and into a bed where I lied flat without leaving the bed for eighteen days. When that didn't fix the problem, I had an operation and have been fine ever since. While I was in the bed in the hospital I read a Playboy Magazine article, "Jogging can kill you."
My next Air Force assignment was Hickam Air Force Base, Hawaii, where I started running seven days a week, three to six miles each day. I usually ran in the afternoon after work, in the heat and humidity, at an average pace of six and a half to seven minutes per mile. We lived across the street from the largest base swimming pool, so at the end of each run I would put on my swim suit and do a quarter mile in the pool.
I ran every day I was on inspection duty in Japan, The Philippines, and Korea, too. In Korea I created a small international incident. Korean soldiers guarded the Air Force bases we inspected, and at one base at least one of the soldiers filed a complaint that I was running without a shirt, and he or they were offended by my bare chest. Reluctantly I started wearing a shirt whenever I ran in Korea.
The final base in my twenty-one year Air Force career was Travis AFB, California, where I ran three miles each day on a sixth of a mile track near the gym. After a couple of months on the track, I noticed that I was doing each lap in just a few seconds over a minute. I realized that if I could run every lap in a minute, in eighteen laps I would cover the three miles in eighteen minutes. After that, my goal was to run each lap in one minute for as long as I could hold the pace.
The summer of that year, 1983, I turned 41 and ran in the Gualala Ridge Run. It was a mostly level five-mile run from the intersection of Iversen Road and Ten-Mile Cutoff to Bower Park on Old Stage Road. I hoped to run well, because Pop, who was slowly recovering from a horrific operation for throat cancer, would be at the Finish line. I was first in my age group and fourth overall in just over thirty-two minutes, and I was very happy to see how proud Pop was.
Pop died suddenly three months later.
That summer I also had to do the annual 1.5 mile run required by Air Force physical fitness standards. As I waited on the quarter-mile track to begin the timed run, I looked at the guys I would be running against and felt extremely intimidated. In particular, there was a large group of young, black, very athletic looking Airmen. They were half my age, and looked like they spent most of their spare time on the basketball court and in the weight room. When the whistle blew to start us, they raced off ahead, even though I started at my fastest pace. However, I didn't feel despondent too long, because I soon started to pass each of them, and by the time I started the sixth and last lap, I had passed them all again. I finished first in my group for the mile and a half, in eight minutes and 25 seconds, and didn't see any of them cross the finish line for another two minutes.
I hope they had some words and thoughts about the "old guy" who passed them twice.
Just before I retired from the Air Force and started working at Lockheed in early 1984, I was finally able to sustain one-minute laps for eighteen laps, and did a couple of three-mile runs in just under 18 minutes.
That marked the high point of my running. In the twenty-two years since I have let work, minor illness, slow but steady weight increase, travel and family activities, and sometimes just plain laziness erode my running discipline. Now I run with Buddy, and our ten-year old puppy and I average about an eleven-minute mile pace.
We do finish by running up a very steep hill for the last 200 yards. It is really steep. I have fallen off cliffs that were not as steep. (OK, this is country boy humor by exaggeration, but it is not far from the truth.)
When we get to the house, Alice always asks, "Did you have a not-too-horrible run?"
With sweat dripping, chest heaving, I answer, "It was horrible, but not too horrible," sounding all the while like it was beyond horrible. But "it was not too horrible" means that while all runs are horrible, the fact that I apparently survived this one, it couldn't have been too horrible. Just horrible enough.
A year ago I ran a 10K (6.2 miles) in the Gualala River Run, tying for second in my age group in just under an hour and seven minutes. This year I ran the 5K, and finished fourth in the 60-69 age group in 33 minutes 25 seconds, which would have been good for second place in the 30-39, 40-49, and 50-59 age groups. The 60-69 age group is very competitive.
However, I was thankful to just run the 5K instead of the 10K, because I had been on my feet for eight hours the day before working at the Gualala Rotary Dinner/Dance, and my legs were dead. But I also realized that I had slipped a lot in the past twenty two years. The times I ran when I was 41 would have been good for second place for all runners in the 10K River Run this year, regardless of age, but now I can't even place in the top three in my own age group.
The 235 pounds I'm packing on my 6' 2" body probably has something to do with it, or maybe the way I have eased off on my running over the years has resulted in the 30 pounds I have added to get to 235. Regardless, I can stand to lose some weight, so I'm going to put pressure on myself to lose it.
Today, October 27, 2006, I weighed 232.8 pounds.
After Thanksgiving I weighed 228.6 pounds. So far so good.
After Christmas I weighed 228.0 pounds, which is fantastic. I think I have always gained weight over the holidays, and this time I actually lost a little.
Just before the Super Bowl I will weigh - it's a complicated story, but suffice to say, about a week after the Super Bowl I weighed 226.0.
Next weigh point, March 19 for Alice's birthday.
Here it is, the 8th of August, and not long ago I weighed in at 221.2. I would be congratulating the heck out of myself, except during the same period Alice quite effortlessly lost 26 pounds, and is now down to her weight at our wedding 18 years ago.
I won't say what her weight is now (or then), but this is a picture from then.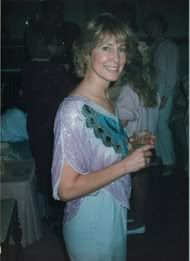 If I can continue to lose weight, then the next project will be to keep it off.
Wish me luck, or discipline, or whatever it takes. I'm sure I'll need it.
Hopefully you are not now an ounce heavier than when you started reading this long tale.