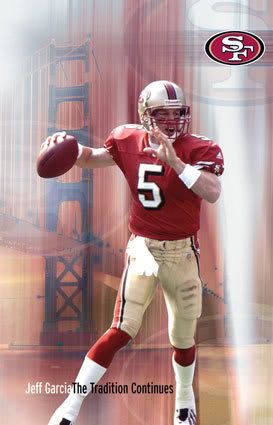 In response to a diminishing number of requests, I am returning briefly to sports blogging. Not just sports, however, but as a conservative, to the character lessons we can learn from sports.
I watched the Philadelphia Eagles beat the Dallas Cowboys 23-7, and enjoyed, more than enjoyed, relished the victory on many levels. Of course it is always a pleasure for a 52-year 49er fan to see the Cowboys lose. It is even more pleasurable when they lose at home, and when they look pathetic in the process. The sick look on Jerry Jones' face, the anger boiling in Bill Parcells; it's like a Christmas present that keeps on giving.
But the greatest pleasure came from watching two opposing players who were never on the field of play at the same time. I was a fan of Jeff Garcia when he played for the 49ers. 49er General Manager Bill Walsh had seen something special in the thin, average speed, average arm, but athletic quarterback from Gilroy, who quarterbacked at San Jose State, then five years in Canada, and finally joined the 49ers as a backup to Steve Young.
The 49ers single season passing record is 4,278 yards. Which 49er quarterback holds the record? Y. A. Tittle, John Brodie, Joe Montana, Steve Young, or Jeff Garcia?
Jeff Garcia, in 2000, his second year in the NFL.
Which of the following quarterbacks are the only ones in NFL history to have achieved two consecutive (back-to-back) 30-touchdown passing seasons at least once in their careers? Steve Bartkowski, Brett Favre, Dan Fouts, Dan Marino, Y.A. Tittle, and Jeff Garcia.
All six have.
Following after the greatest period of sustained quarterback excellence the NFL had ever seen, the
Joe Montana
–
Steve Young
years (1979-1999),
Jeff Garcia
quickly established himself as a quarterback who wouldn't be embarrassed to be mentioned in the same breath with them. The finest years of Garcia's career came in San Francisco from 1999-2003. He completed 63.3 percent of his passes (355-for-561) for 4,278 yards, 31 TDs and just 10 interceptions in 2000. He averaged 3,720 yards and 28 TDs per season between 2000-02.
He went to the Pro Bowl three years in a row as a 49er.
In Canada he led the Calgary Stampeders to a Grey Cup victory in 1998, and was the Grey Cup Most Valuable Player.
Garcia was an outstanding quarterback at San Jose State, and had a terrific East-West Shrine Game.
He had a great game at defensive back in a high school All Star game, although until a week before the game he had never played defense.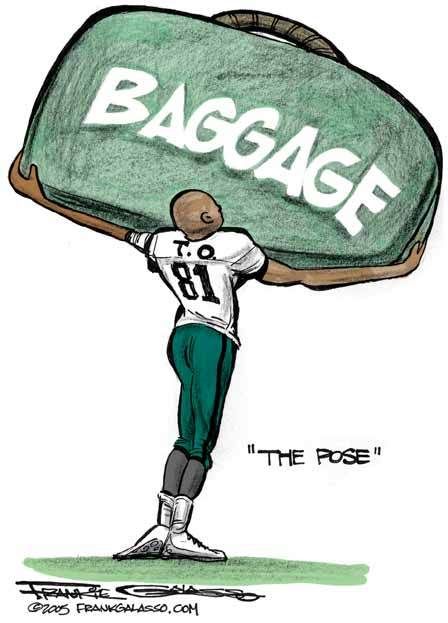 The other player on the field was, of course,
Terrell Owens
. What praise can be given T. O. equal to what he has already given himself? Terrell Owens almost single-handedly drove Jeff Garcia from the 49ers. In a Playboy interview in 2004, T. O. questioned Garcia's manhood – in fact, he implied Garcia was a
homosexual
.
I wonder if T. O. ever saw a picture of Garcia's fiancée? It would have been easy for him to find a picture, because her name is Carmella Danielle DeCesare, and she was
Playboy Playmate of the Year for 2004
.
OK Jeff, we believe you! Terrell, eat your heart out.
Owens had a record-breaking day on December 17, 2000 with 20 catches for 283 yards versus the Chicago Bears. His single-game reception total surpassed the 50-year-old mark held by Tom Fears. The quarterback getting the ball to him was Jeff Garcia.
In the 2002 season the 49ers won the NFC Western division and earned a home playoff game against the New York Giants. In that game the 49ers produced the second-greatest comeback in NFL playoff history by coming back from a 24 point deficit (14-38) and winning 39-38 behind notable performances from Owens, who had nine catches for 177 yards – and from Jeff Garcia, who completed 27 of 44 passes for 331 yards and three touchdowns, ran 14 yards for another touchdown, and had a total of 60 yards rushing for the day.
But still Owens questioned Garcia's manhood. Forget the homosexual angle. Owens was very critical of Garcia, and badgered him about getting the ball even as Garcia held the ball until the last split second before the pass rush crushed him to try to complete a pass, and would throw his thin body at charging linebackers to gain an extra yard or two.
On the receiving end, Owens showed "
alligator arms
" when he thought a defender would hit him hard as he caught the ball. Instead of reaching for the ball, he kept his arms in to protect his body, and many catchable balls fell incomplete or bounced off the tips of his fingers. For the self-proclaimed greatest wide receiver of all time, the number of passes he drops is shameful.
His weak pass catching efforts resulting in dropped passes while protecting his body are disgraceful, especially when you see the beating his quarterback takes while trying to get the ball to him.
Terrell Owens has done a lot to make pass receivers into football's prima donnas. For most of the past season with the Raiders, Randy Moss has looked completely bored and uninspired about running pass routes, or on concentrating long enough to catch a pass thrown to him.
Even worse is the effect on younger receivers. Now all they practice and concentrate on are their end-zone celebrations. In a game against the Seahawks, the 49ers rookie tight end,
Vernon Davis
, caught a touchdown pass to put the 49ers ahead 10-7, but did a touchdown celebration that looked like a drunken seagull, placing one foot on an end-zone pylon and drawing a 15-yard unsportsmanlike penalty on the ensuing kickoff. Fortunately for Davis and the 49ers, the Seahawks weren't able to capitalize on the excellent field position Davis' penalty gave them.
Terrell liked to practice with McMann, the Eagle's quarterback. I have heard T.O. now has a Tony Romo doll on order. T.O. apparently never had to use his Drew Bledsoe doll, because T.O. spent most of the T.O. - Drew Bledsoe era on the injured list.
Like T. O. before him, Davis called attention to his quarterback not getting the ball to him when he was open in the game against the Packers. Also like his idol, Davis says nothing when he drops catchable balls.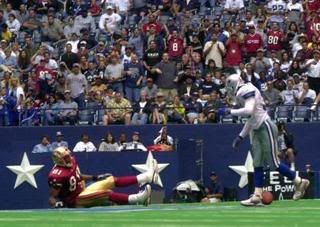 Terrell and the ball are easily separated. The love affair at Dallas hadn't started when this photo was taken.
None of the current crop who choreograph their touchdown celebrations seem to care that they are making it harder for their team and teammates to win. On many touchdowns, the person scoring the touchdown has the easiest part on the scoring play. On a pass play, blockers are engaged in a fierce struggle from the moment the ball is snapped, whereas the receivers are protected by the rules like they are fragile china. As the quarterback releases the ball and a split-second later is slammed to the ground under a 325-pound lineman, a penalty will be called on the pass defender if he rests his hand on the back of the receiver.
"The pass is thrown! The ball is in the air! The running back gave up his body to stop the blitzing linebacker! The quarterback was blasted just as he released it! The pass is thrown perfectly to the back pylon, where only the receiver can make a play on it! He catches it and drags both feet before going out of bounds! Touchdown!"
"Now the receiver shows signs of life for the first time today as he begins his solo celebration! He pulls a ring box from his sock and kneels to propose to the nearest cheerleader! Then he begins a dance along the back goal line that looks like a cross between Ubangi fertility rites and Swan Lake as interpreted by the Radio City Rockettes! As a finale, the receiver ignites rockets in each pants leg and soars to a landing amongst the fans in the second deck! As he prances back to the field doing the Chicken Walk to the Macarena, he waves an enormous banner that says in flashing lights, "You ain't seen nothin' yet!"
"All I can say, his touchdown celebrations are almost as good as Marryin' Sam's five-dollar weddings in Li'l Abner!"
"Right you are! It's a shame he dropped those other touchdown passes! If he could have hung on to just a few of them, we would have been in for a real treat! The way it is now, with his team behind three touchdowns with a minute left in the game, his restraint is understandable."
"True, quiet and dignified is always correct when you're losing by 21 points with a minute to go."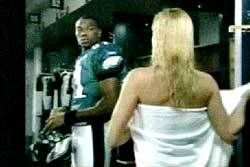 T O, always in good taste with quiet dignity.
The football commentators have very low expectations of wide receivers. They rave when one gets between a ball carrier and tackler and call it a great wide-receiver block if the tackler has to slow down. To them it's unbelievable if the receiver actually hangs on to the ball after he is hit. Understandable, I guess, since often they don't.
It makes me appreciate former 49ers receivers even more: Jerry Rice, John Taylor, Dwight Clark, tight end Brent Jones, Roger Craig and Tom Rathman out of the backfield – all they did was catch the ball, and they left the celebrating (and griping) to the fans.
And it makes me appreciate football players like Jeff Garcia, who get the job done when it counts. Garcia is 6' 1" and weighs 200 pounds, but when courage is the measure of a man, he's always the biggest on the field.
Please click on the label below to see all my articles on this topic.