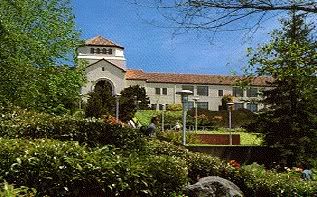 Some of my favorite classes at Humboldt State were in this building
I began my nine-year, seven college career at Humboldt State in Arcata, Northern California, as a journalism major. Journalism seemed to offer the potential for an interesting and romantic life. Wherever in the world something important and exciting was happening, journalists were right in the middle of it. I knew that from the movies, TV, and Superman comics.
Although my brother Ron and I were paperboys to deliver the Santa Rosa Press Democrat in Point Arena, that was as close as I came to any knowledge of professional journalists.
I had some experience in journalism writing for The Pirate, the Point Arena High School student newspaper. It was personally very satisfying to know that my fellow students were reading my articles and that I had opportunities to influence their opinions, although we did not cover anything controversial, and none of us seemed bothered by that. Me least of all.
It was also fun to participate in such a loosely structured, student directed activity. We chose the subjects (with Mrs. Hood's approval), wrote the articles, typed the mimeograph sheets, and operated the manual mimeograph machine to print the pages.
The final step to produce the paper was the "Grand Collation March," where we laid the pages in reverse order on desktops in a big "U" pattern, then marched around picking up a page from each desk until we had assembled and stapled the collated pages into a complete copy. We made about 150 copies of each edition, which provided one for each student and faculty member, plus a few for posterity.
Late in my Senior high school year, in the Spring of 1960, I still hadn't done anything about applying to go to college, even though I had less than six months before I would be expected to show up for my first college class somewhere.
Luckily for me, an unusual event occurred at Point Arena High that snapped me out of my perpetual state of procrastination. Three students from Humboldt State College visited our high school and presented a short program of speeches and dramatic readings. One of the speakers was an imposing figure, Manny Simas, who I later found was the star defensive tackle for the Lumberjacks, the Humboldt State football team.
Later in 1960, many Americans would know of Manny Simas, because Life Magazine ran a picture of him, his wife, and seven children, and dubbed him the "Big Daddy" of American football.
However, when he visited us all I knew was that I was fascinated by his dramatic reading of excepts from Mark Twain's "Innocents Abroad," and I got his attention and asked him questions about Humboldt State when we had a chance to meet him and his colleagues for a half-hour question and answer session after their presentation.
After our short chat, I knew I wanted to go to Humboldt State, and that I wanted to be a sports reporter. I quickly did all the things to complete and send off my application to Humboldt State, the things I should have done months before. Before I had time to get nervous and worry about it, I received an acceptance letter from Humboldt State, and began my preparations for my first year of college.
The most critical step had to wait for Summer vacation, when I would get a Summer job and earn school money. A two-semester year at Humboldt State would cost about $1,200 for room and meals on campus, plus books and supplies. That was a lot of money for my family in those days, when we would say that a dollar bill to us looked "as big as a horse blanket." That was a country way of saying that we didn't have much money, and what little we did have had to stretch to cover a lot.
My buddy Chuck York tipped me off to an opportunity to work on a small crew renovating the bridge over the Garcia River on Eureka Hill Road. It was a really good job, earning me $3.50 an hour to rip off the old decking, and remove some of the rotten pilings from under the bridge. However, after a couple of weeks the supervisor found out I was only seventeen, labor laws required me to be at least eighteen, so he paid me off and I had to find another Summer job.
Once again I lucked out. Another friend had heard of a US government surveyor who was looking for a helper on a project called a field verification survey. I contacted the surveyor, a young Japanese American named Yukio Yamamoto ("Just call me Yuks" – I never did, and I wondered who could or would?), and he hired me at $1.65 an hour to drive the Jeep and hold the sight rod.
Halfway through the summer I turned 18, and could have tried for a higher paying job, but by then I was very comfortable working for Yukio. What I had earned, and what I projected earning came to a total for the summer of $900, which with a little bit from my savings and a little help from Mom and Pop, would cover all my costs for two semesters at Humboldt State.
I arrived at Humboldt State a week before registration for Freshmen Orientation, one of the most enjoyable weeks of my life. The students who organized and presented the orientation were without exception the friendliest and most helpful group I have ever experienced. There was not the slightest hint of hazing. They were there for us to have fun, not for them to have fun at our expense.
I wonder now why all initiations are not like that, happy for both the initiate and the initiator. What sad component of human nature gives pleasure at causing discomfort in another? And then this year's victims relish the thought of how they will bedevil the new ones next year.
Still in the glow of Freshman Orientation, we entered the gym to pick up materials to begin the registration process. There we were met with the buzz that our large Freshman class was taking Humboldt State total enrollment over 2,000 for the first time ever! That was the good news. The bad news was we were taking total enrollment over 2,000 for the first time.
In the Time Before Computers, events like college registration were monuments to endurance and persistence in the face of monumental frustrations. Rapid increases in enrollment only amplified the frustration, because the number of offerings of each course and the size of classes based on experience never kept up with the speed and magnitude of the increase.
Registration was like a constantly changing puzzle. We students had taken the course catalog and picked the classes we wanted, and the ones we had to take, which usually were not the same, and then laid them out in a schedule by day and hour. It soon was obvious that none of us wanted early morning or late afternoon/evening classes. We also had strong preferences for Monday-Wednesday-Friday classes of one hour daily, instead of Tuesday-Thursday one and a half hour per meeting classes.
The day before registration, I encountered an unusual wrinkle in my planning. All Freshmen had taken a placement examination, and when I went to check the English placement roster, I found a note by my name to go to the English Department table. The cute coed manning the table said, "Mr. Combs, there's a problem with your enrollment in English 1A. I have a note for you to go immediately to see the English Department Head in the Language Arts building."
A feeling of dread overcame me, and I hurried across the campus to the Language Arts building, where I found myself waiting for the Department Head with a group of about thirty other Freshmen. We were soon escorted into a classroom, and told we all had high scores on the English part of the placement exam which made us eligible for enrollment in a two-semester Honors course which would satisfy graduation requirements for two semesters of Freshman English plus one-semester of Speech.
We were assigned to quickly write a short story, then give a speech based on it. We wrote our stories, prepared our speeches, handed in the papers, delivered the speeches, then waited.
The wait wasn't long, probably only about twenty minutes, but it seemed much longer. We were called one at a time to an office where we met the two professors, one of English, the other of Speech, to whom we had given our papers, and who had then listened to our speeches.
"Congratulations, Mr. Combs, we're pleased to invite you to participate in an exciting and challenging program that combines composition and speech in every task."
I was surprised, confused, honored, approximately in that order. In the course of the day, I had learned that about five percent of the Freshman class were picked based on placement exam scores, and that less than half of that group received invitations to register in the Honors course after our compositions and speeches were evaluated.
I also learned a few things about myself in relation to the other students chosen for Honors English and Speech. I was from the smallest school by far, I was the one who least considered myself a language scholar, and I was the most ignorant about details of college life, such as registration. I also found I was a member of a minority, males in English honors courses.
Although Humboldt State in 1960 was a decidedly masculine preserve, with many courses like Humboldt's hallmark, Forestry, almost entirely male, you would not have known it if you limited your Humboldt experiences to the Language Arts building, and in particular the Honors English and Speech class.
Or my journalism courses, also found in the Language Arts building. The reporters for the "Lumberjack," Humboldt State's weekly school newspaper, were almost all females except for its editor, Hugh "Baby Huey" Clark, two other guys, and me.
When I told Hugh that my ambition was to be a sports reporter, I found that he and the two other guys felt the same, and they had experience and seniority on me. I was assigned to reporting on club activities, and soon found I didn't have the interest or discipline to take assignments to report on things I wasn't personally interested or involved in.
I did have one assignment I really enjoyed. I went as the reporter when the Humboldt State Junior Varsity football team played the San Quentin convict team. We started from Arcata by bus, and overnighted in the Willits High School gym. The next morning we continued to San Quentin, and were admitted into their Skyline Gym. As part of the visitor processing, each of us was stamped on the back of a hand with a dye that glowed under ultraviolet light. Of course we were told that if the dye was washed off, we couldn't leave. I didn't worry, since as a reporter I wouldn't have to shower after the game, but some of the guys seriously discussed showering without getting the back of their hand wet.
And without dropping their soap. "If you drop your soap, you better not pick it up," warned one of the jovial guards.
While the squad was getting into their uniforms, I wandered over and looked out of a fourth-floor window. One of the convicts in the exercise yard below saw me and yelled, "Hey, mother, give us a thrill, jump!" followed by hearty laughs. I eased away from the window, not eager to be the day's entertainment.
When the team went down to the field for warm-ups, I went to the announcer's booth and introduced myself. The convict announcer assigned another convict to work with me as my "spotter." I would call out the number of one of the convict players, and my spotter would give me his name, the position he played, his sentence, and his crime.
"Number 40 is John Rodgers, nickname 'Blacky,' he's a fullback, doing 20 to life for second-degree murder." (Although I used similar information my spotter provided in the article I wrote for the Lumberjack, "John Roberts" is fictitious.)
The Humboldt State JV's won a close, well-played game, 21 to 19 or something close to that. When we returned, I hurried to the Lumberjack office and started the laborious task (I was a very slow typist) of typing my report of the trip and game. I was proud of my effort, which filled the entire back page of the Lumberjack.
Unfortunately, that was the high point of my career in journalism. I wouldn't put in the time and effort to become knowledgeable about the club activities I was assigned to report, and my reports were short and superficial. I soon considered Editor Clark a tyrant, and avoided the Lumberjack office unless I had no choice. At the end of the first semester, I gave up journalism and became a biological sciences major, and decided I wanted to become a high school teacher
Over forty years have passed since the inauspicious launch of my college career, and I find myself once again a journalist of sorts, still unpaid, but free to choose what I want to write about.
I don't get paid, but this time at least I don't have an editor bossing me around.
Please click on the label below to see all my articles on this topic.