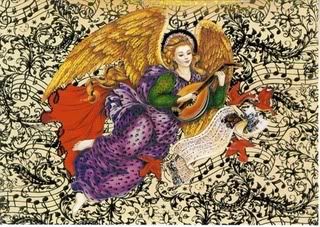 May the gifts of joy and peace be yours this Christmas season and throughout the New Year
A Christmas letter is like a box of chocolates. You never know what you're going to put in it. Now there's a scary thought for you chocolate lovers.
Actually, I know what I'm putting in this one. The same things I always do. Travels, family, friends, medical reports, blog report, plans for next year. As usual, I will avoid politics and religion, high among the most interesting subjects of life. Why is it the things we care most about are the things we're not supposed to talk/write about? Maybe that's why blogs were created, so we can spend time writing about things no one else wants to know. Click on the following highlighted link to go to an
INDEX
of some of the 300 posts I wrote this past year.
Click
HERE
and
HERE
for posts about our Ecuador and The Galapagos Islands vacation in January. We had a very active ten-day Lindblad Explorer Galapagos cruise on a small ship (50 passengers). We hiked, kayaked, took Zodiac rides, snorkeled, had fabulous meals, were guided by unbelievably friendly and knowledgeable naturalists, and observed birds, seals and sea lions, iguanas, and tortoises at arm's length (and sometimes closer). All were totally fearless in our company. Before the cruise we enjoyed a few days in Guayaquil, and after the cruise went to Quito, and then to Papallacta Hot Springs Resort high in the Andes at just over 11,000 feet.
Alice loves her book club, and I'm sure she is its most diligent member. As she reads each assigned book, she marks passages with colored stickers denoting key concepts, curious items, strange words, and the like. Then she reviews or researches them all. She reads proposed books to render an opinion on their suitability for members, and scouts for opinions on books to add to the list. Finally, she publicizes meeting dates and locations in our local newspaper, and schedules members to host meetings. I don't think I have ever seen a happier club member than Alice in her (all female) book club.
I'm kept busy with membership in the Gualala chapters of Rotary and Lions, and the Native Sons. My objectives as a member of each is to have a fun social life. The objectives of Rotary and Lions center around getting lots of work out of me. I guess it's the Protestant ethic that it's wasteful to get together just to have fun, so you do good deeds to compensate. The Native Sons (and Daughters) just get together to talk. Great bunch. Some of them I've known since 1949.
Next year should be very busy for our travels. Alice and her beautiful teeth will escort me to Hungary where dentistry is king, possibly in April, where I will have several teeth implanted, a bridge or two, maybe a couple of caps, and the few faithful teeth remaining that have stuck with me through 10,000 cups of coffee will get whitened. This is a two-parter. I'll have to go back in four to six months to complete the implants.
Then in September we will go to China with Alice's father, George, and his friend Susan for three weeks. We will start our tour in Beijing, where we will dine on Peking Duck (or is it Beijing Duck now?). If I told you all we plan to do, then next year's Christmas letter would be anti-climatic. Suffice to say we will see the Forbidden City, Great Wall, & Etc., travel a week seeing sights until we get to Shanghai, board a river cruise ship and travel the Yangtze River & Etc. for almost two weeks, and finish up in Hong Kong.
Michael's medical report: I have teeth issues, as mentioned already. Also, I sometimes have anxiety attacks when I go to sleep after drinking four or five cups of coffee, then worry why it takes me three or four minutes to fall sound asleep.
Alice writes: My medical situation is as follows:
I must undergo one more test on 12/22/06 before I have my final consultation on January 9th & then get scheduled for surgery in late January or early February. It is still unknown whether or not in addition to my fundoplication (stomach wrapping of the esophagus) I will have a pyloroplasty (enlarging the pylorous which is the connection between the stomach & the small intestine) in order for my food to pass through more quickly. In addition to that consultation, I must have another surgery consultation with the anesthesiologist at an unknown date & then finally the operation at another unknown date. Now I think the 17th of Jan would be the earliest date possible for the operation & the 5th of February probably the latest date. After my consultation on 1/9/07 I should know the exact date of my anesthesiologist consultation as well as my surgery date. Also, I found out that when I check out of the hospital between 2 and 6 days after the operation I will not be authorized to drive a car.
I found out three days ago that most people who have fundoplications have a composite score of 50 or 60, and my composite score is 121.7 with normal being less than 14.7. I interpret that to mean I should have had this operation some years ago. The problem is now worse than last summer. I no longer can drink orange juice without problems, and fresh fruit and vegetables exact a price of discomfort from me. I no longer touch pineapple or melons except on wild impulse and then I pay an enormous price. Therefore, I am very much looking forward to my operation mostly so I can with ease eat juicy chunks of pineapple and melons and other delicious foods, and secondly so I don't have to gauge my swimming and bicycling to when I am almost famished (meaning as empty a stomach as possible).
I should be as good as I will get 6-8 weeks after the operation, so by April Fool's Day at latest I shouldn't be asking for any more special considerations.
We wish you all a Merry Christmas, and a Happy Chanukah too.

Michael, Alice, and sweet little Buddy
Please click on the label below to see all my articles on this topic.