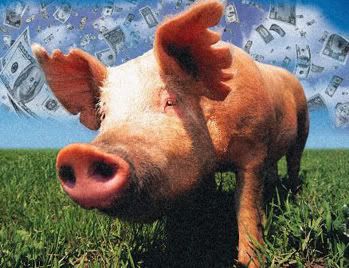 Pelosi trading pork for votes. Al Gore buying carbon offsets.It looks like the Democrats have their own commodity exchange!
In the San Francisco Chronicle's paean to Porky Pelosi's political prowess (House OK of Iraq timetable proves Pelosi's prowess, Saturday, March 24, 2007), I noticed no mention that none of her "100 hours" legislation has become law.
Also not mentioned, that the House Democrats adopted rules requiring that appropriation "earmarks" for special purposes identify their authors, and then immediately violated their new rule.
Concerning the pork Pelosi lavished to bribe Democrats to support the Iraq funding bill, Rep. Mike Pence (R-Ind) noted: "Spinach, shrimp, peanuts and shellfish? That's not a war funding bill, that's the salad bar at Denny's."
The Senate bill has been further sweetened with aid to sugar-beet and sugar-cane growers.
Is Pelosi's prowess demonstrated by inability to pass legislation? If so, she will go down in history as the Speaker with the most prowess ever.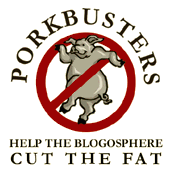 Please click on the label below to see all my articles on this topic.