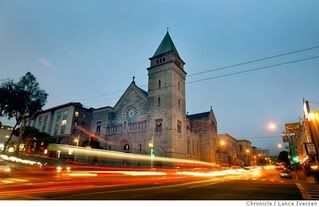 St. Brigid Catholic Church in San Francisco, closed in 1994, the subject of a front page Chronicle story for three days in a row.

I haven't written many posts lately, and it's all because of the San Francisco Chronicle. For most of the past year, the Chronicle has daily provided ignorant and inane articles and editorials that inspire me, that overcome me with waves of righteous indignation, to write responses.
Unfortunately for me, lately the Chronicle has changed a lot, and the biggest change is they have become a "non-news" newspaper. For example, the Sunday Chronicle for March 25, 2007 did not have one newsworthy article in its entire first section.
For example, the Page 1 Headline article was "
Food bloggers dish up plates of spicy criticism
– Formerly formal discipline of reviewing becomes a free-for-all for online amateurs."
(Food on the Web - Some sites relating to the search, discovery and criticism of Bay Area cuisine:
Please click on the label below to see all my articles on this topic.