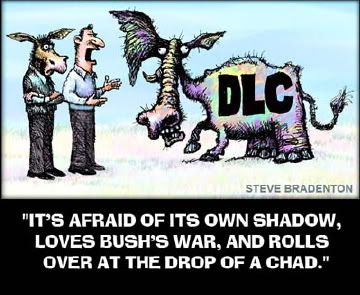 Nancy's New Democrats will be running the show!
Special interest groups are demanding Democrats reward them for their long, loyal support, according to an article in the
Los Angeles Times
, aka The Democrat Newsletter.
The American Civil Liberties Union gave up its nonpartisan masquerade and wants the Patriot Act gutted, and an end to wiretapping of overseas terrorists in the act of contacting their cohorts in the United States.
Abortion activists, in particular the Planned Parenthood Action Fund, claim they were the biggest winners, and expect support for expanded access to abortions and reduced abstinence education, for starters.
Gun-control advocates, such as the Brady Campaign to Prevent Gun Violence, also think they won big, and want to revive the ban on assault weapons, as a first step.
Labor unions are demanding universal healthcare, leading to greater government control over business and the revival of unions. Unions also demand laws discouraging corporations from seeking inexpensive labor overseas, again weakening business and reviving union power.
Of course, there are demands for withdrawal of American troops from Iraq, leading to eventual defeat there for President Bush and the US, and retreat from the war against terror. Even the
New York Times
now thinks that's a bad idea.
Here in Northern California, the Left feel that Democrat leaders promised impeachment of President Bush and Vice President Cheney, and won't be satisfied with anything less.
The problem Democrats have is that, besides their rabid leftist supporters, they courted enough votes from centrists to narrowly regain the House and Senate. Their centrist support helped Democrats elect centrists, not leftists. Democrat leaders in the House and Senate are Leftists, but their new colleagues are moderates.
If Democrats could claim anything resembling a mandate, which they can't, it would be to govern as moderates, but their loyal supporters won't stand for that. They didn't vote for Democrats to be Republican Lite.
The most recent example involves Nancy Pelosi's attempt to hold on to the moderates by supporting a moderate (for a Democrat), John Murtha, for Majority Leader. This has upset George Soros and his merry band of Leftists, and his organization CREW (
Citizens for Responsibility and Ethics in Washington
) has attacked Pelosi viciously for "her endorsement of one of the most unethical members in Congress, Rep. John Murtha (D-PA)."
Remember Nancy, the moderates get you votes, but Soros pays the bills.
Be that as it may, for many good reasons, the Democrat Left have long been political lost souls. If they get their way, they will soon deservedly resume wandering in the political wilderness.
Democrats should be careful of what they wish for, because sometimes wishes come true.
UPDATE:
The Allen Report
, Time.com, reports the Democrat Honeymoon only lasted five days.
UPDATE 2: "Rep. John Murtha (D-Pa.) told a group of Democratic moderates on Tuesday that an ethics and lobbying reform bill being pushed by party leaders was 'total crap...'"
So much for the Democrats' war on corruption and ethical reform. Another Honeymoon already over.
As "Dandy" Don Meridith would sing, "Turn out the lights, the party's over."